Supreme Court Rules In Favor Of Religious Freedom
Filed under: Constitutional
Comments: 1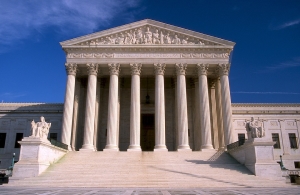 Today, the U.S. Supreme Court found in favor of the companies' religious freedom in  Sebelius v. Hobby Lobby Stores and Conestoga Wood Specialties Corp. v. Sebelius.  In each case, the companies argued that the requirement to provide abortion services in the Affordable Care Act ("Obamacare") violated their rights of religious freedom.  Although religious freedom had been curtailed in previous Supreme Court decisions, religious freedom rights are generally protected at least as against Federal regulation by the Religious Freedom Restoration Act.  Although they could have done so, nothing in the statutes enacting Obamacare indicated that the regulations prevailed over the religious freedom rights protected by RFRA.
The government had argued that although RFRA protected the religious freedom rights of individuals and non-profit corporations, it did not protect religious freedom rights of corporations that sought profits.
As predicted in our recent blog entry on the case, the Court found that it was not legitimate to attempt to deny right under RFRA to Conestoga and Hobby Lobby merely because they were for-profit corporations.  Noting that the government admitted that non-profit corporations are "persons" protected by RFRA, the Court found that there was no basis to then conclude that for-profit corporations are not "persons:"
"This concession [that non-profit corporations are "persons" under RFRA and the Dictionary Act] effectively dispatches any argument that the term "person" as used in RFRA does not reach the closely held corporations involved in these cases. No known understanding of the term "person" includes some but not all corporations. The term "person" sometimes encompasses artificial persons (as the Dictionary Act instructs), and it sometimes is limited to natural persons.  But no conceivable definition of the term includes natural persons and nonprofit corporations, but not for-profit corporations."
The Court's decision is a victory not only for religious freedom rights, but also for legitimate interpretation of statutory authority.  The government's attempt to allow RFRA's protections to apply to some corporations but not others was without any support in the actual statutory language.
Sam Ventola has a wide variety of experience in litigation, legal education, and mediation. He has been an attorney on both sides in business litigation, employment disputes, probate litigation, and personal injury cases. In addition to being an attorney, he has been a mediator, hearing officer, labor relations professor, and lecturer on litigation, employment and First Amendment issues. He has also achieved the rating of AV Preeminent® by Martindale Hubbell.