In a 5-4 decision today in Obergefell v. Hodges,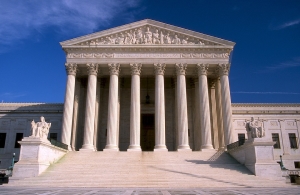 (with Scalia, Thomas, Alito and Roberts dissenting), the Supreme Court held that the 14th Amendment's equal protection clause requires States to recognize gay marriage. The decision is somewhat unusual in that it does not clearly rely on a "level of scrutiny" test as most equal protection cases do. Instead, the majority states that marriage is such an important and fundamental right, it cannot be denied to same sex couples.
One issue with the case is that its reasoning is quite broad, and therefore arguably implies the necessity of recognition of others' efforts to get marriages, such as those wishing to engage in plural marriages or who are too closely related under State law. It remains to be seen whether the Justices in the majority would apply the same reasoning in those cases, or whether they would simply decide which relationships they deem to be acceptable on a case by case basis.
The result in the decision was widely anticipated, and already possible legislative responses are being considered. One possibility is that a State could simply eliminate "marriage" and create civil unions for any two – or even more – people who wish to commit to each other legally and financially. This could include siblings, a parent and an adult child, etc.
Also, it is important to note that this decision does not affect the First Amendment right of a minister or church to continue to decline to participate in gay marriages. The First Amendment preserves the rights of a religion to preserve its own doctrine and set its own parameters of what is a proper marriage. Although some service providers such as bakers and photographers have been required to participate in gay marriages, this would not be extended to ministers, churches, or anyone who would be required to engage in expression on behalf of the marriage.
Sam Ventola has a wide variety of experience in litigation, legal education, and mediation. He has been an attorney on both sides in business litigation, employment disputes, probate litigation, and personal injury cases. In addition to being an attorney, he has been a mediator, hearing officer, labor relations professor, and lecturer on litigation, employment and First Amendment issues. He has also achieved the rating of AV Preeminent® by Martindale Hubbell.